"I'm going to do the whole bloody lambing. I'm going to lamb all the lambs. I imagine myself lean and strong, with thin thighs, in attractive waterproof overalls, striding through the lambing shed like I own it. I spend the rest of the evening searching through eBay for waterproof trousers, short leg, size 14, that don't look like a pair of plastic bags stitched together at the crotch."

Sally Urwin, Diary of a Pint-Sized Farmer
I'm currently working on a cozy fantasy novel about a young woman who leaves city life behind in order to become a smallholder (roughly the UK equivalent term for a homesteader) on her family's old, abandoned farm on an enchanted island. Considering that I'm a city girl myself (or rather, suburban, but either way totally not a farmer), I've been doing as much research as I can on farming life and homesteading. I have this idealized notion of being out in the country, taking in the beautiful scenery, and joyfully going about all the day to day tasks of a smallholding. I'm also aware of just how glaringly incorrect this picture is.
So I've begun to follow farmers on Twitter (mostly UK based farmers as my story is set in a UK-inspired land), watch YouTube videos about homesteading and cottage restoration and shepherding, and have amassed a decent amount of books about life on farms. My most recent purchase was Sally Urwin's Diary of a Pint-Sized Farmer. I LOVED it to pieces and flew through it so quickly, oftentimes reading it at the table while eating dinner and informing my husband (without being asked) of all sorts of interesting tidbits about farming life.
First off, this book is chock full of humor and is sure to leave any reader rollicking from a good laugh. Sally writes in such an easy, conversational tone that makes it feel as if you're listening to the stories of a good friend over a nice, hot cup of tea. It is so easy to share in the laughs and the joys, but it's just as easy to share in the hardships her family faces as farmers.
It is far from an easy life, and anyone who thinks living in the countryside (beautiful as it is) and working the land is a walk in the park is off their rocker. I understood that farming came with hardships, but I've never had such an intimate, close-up look at them. Thieves who steal expensive farming machines and animals, living at the mercy of the weather, the expenses of fertilizer and feed and seeds and vet visits, and just how strapped for cash and how stressed so many farmers are. Sally poured her heart out at times, and I have to admit that I feel angry at how much farmers, who work so bloody hard so that the rest of us can have food, have to fight to scrape by. I've never before felt so appreciative of all of our agricultural workers and I feel so passionate now about taking care of them.
With each entry in Sally's diary, I felt more invested in her farm. I was rooting for them, turning the pages, anxious to see how lambing would go, praying for a good harvest despite the heat and lack of rain, and cheering when the lambs were sold at market. It's a bit silly maybe, but I feel like this book has turned me into a total farming fangirl, cheering for all of the small farmers I follow on Twitter.
Another great thing about this book was how informative it was. I've learned bits and pieces from reading James Herriot's memoirs and from watching All Creatures Great and Small. I've also learned a bit from watching the program This Farming Life. But there was so much new information that I could only have learned from the more personal presentation that this book offered. I never knew that sheep could get turned over and drown in a puddle, or that predators would start eating them while they're still alive. I didn't know so much of the ins and outs of lambing, or about how some ewes pinch lambs that aren't theirs.
This book was phenomenal. Absolutely phenomenal and I'd give it 5/5 stars. I'd recommend it to anyone interested in learning a bit about farming life, anyone interested in learning about where their food comes from, and honestly anyone interested in a thoroughly enjoyable read! I laughed so much, I cried once or twice, I cheered, and I turned the pages eagerly to see what would happen next. I've learned so much, and I'm so happy that Sally has yet another book to read! I'll be ordering it soon.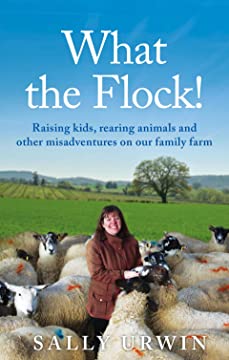 Thank you so much Sally Urwin for writing this book. I think it'll open the eyes of everyone who reads it to just what incredibly important work farmers do and just how incredible the people who do it are!