Good morning readers and fellow writers. It is with the happiest of hearts that I share the news that the first issue of Wyngraf, a new magazine of cozy fantasy, premieres today! It is available to purchase as an e-book (and is free if you have Kindle Unlimited) or as a paperback.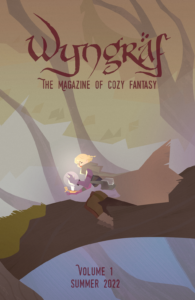 From the description on its Amazon listing:
Fantasy fans, curl up and stay a while!
At last, cozy fantasy has a magazine all its own. Wyngraf #1 offers nine snug stories in the tradition of Redwall and The Hobbit. Go there and back again with lush settings, caring characters, and dragons of all sizes.

Contents
"The Perils of Living with Your Human" by Nathan Slemp. Carath wants to smooth things over between his rider and her sister, but can a dragon understand human families?
"The Road to Fjallmark" by Natasha Inwood. When a terrible blizzard hits the mountains, Scholar Neea and her apprentice Pim put their lives in strange hands.
"What We Buried" by J.A. Prentice. How can Ash save his father's dwarven friends when he can't even cast a basic spell?
"Your Own Beeswax" by Dan Crawford. Everyone wants the Vanagh's treasure except Polijn the minstrel, but things aren't what they seem in the Sacred Grove.
"Weaving Serenity" by Amanda Cook. The queen needs Calmers, but Eloise of Leafside is retired. Of course, her teenage daughter isn't…
"Vigil" by Nathaniel Webb. For Cadet Messenger Faining Mores, taking a job at the end of the world requires leaving home and friendship behind—but refusing means abandoning the career she loves.
"Dragonsmith" by Angelica Fiori. Garrett the blacksmith wants to revive his family's traditions. But smithing isn't so simple when there's magic involved!
"A Petrified Heart" by Katherine Quevedo. When wood fairy Raya accidentally offends the cruel queen of the seashore, she begins a quest that will change her and her people forever.
"Epilogue" by Rajiv Moté. Historian Sajun hasn't seen the sorceress Tankrit since the War for the Light ended twenty years ago. Do bonds forged in battle last, or is the magic gone?
So if you're craving the warmer, cozier side of fantasy, be sure to snag your copy of Wyngraf today!