Writing My First Children's Magazine Story
I just wrote my first children's magazine story and have it all sealed up in a 9×13 envelope and ready to send off. Will anything become of it? We'll see. But I have so many more story ideas and ideas for poems and rebus tales to write and submit. Hopefully something will land. Most importantly, I'm learning from this process and with each completed and submitted piece, I feel more confident in labeling myself as a writer.
I figured I'd document what went into this little project (it did only take a handful of days) for myself and for anyone else interested in trying their hand at writing for the children's magazine market.
Research
Since I have two kids myself, I have subscribed to a number of children's magazines. We have Clubhouse and Clubhouse Jr., as well as Ladybug, Highlights, and High Five. I picked one magazine and read through all of the issues I had.
The first magazine I chose was Clubhouse Jr., which is published by Focus on the Family for children ages 3-7. From their submission guidelines page:
"Focus on the Family Clubhouse Jr. is a 32-page magazine designed to inspire, entertain and teach Christian values to children ages 3-7. The magazine, which has a circulation of over 50,000, reaches young readers and their parents all over the world. Parents trust Clubhouse Jr. to provide wholesome, educational material with Scriptural or moral insight. The kids anticipate stories with excitement, adventure, action, humor or mystery. Your job, as a writer, is to create work that pleases both parents and children."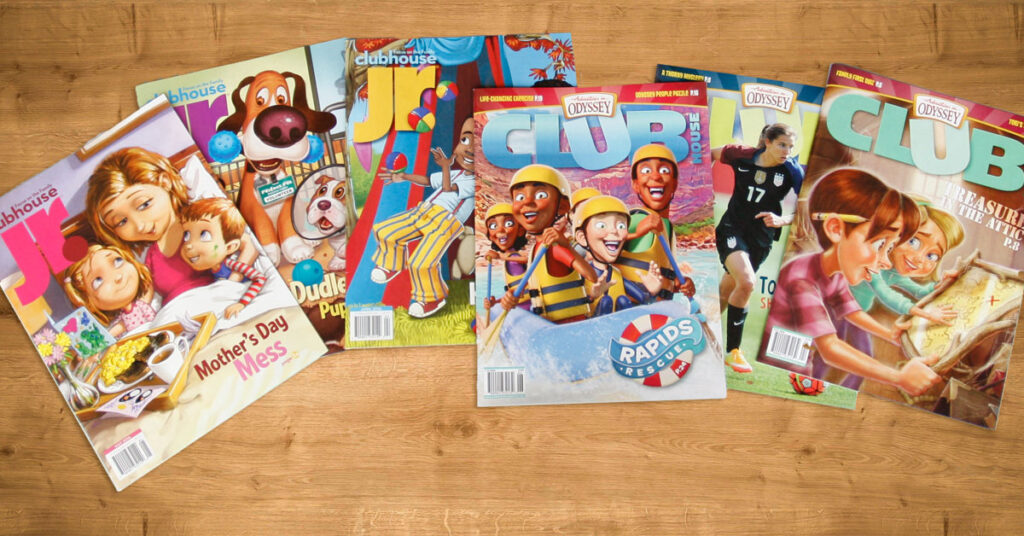 I got my pile of magazines (probably over 20) and read through all of them. Fiction and nonfiction pieces. Rebus stories, poems, Bible stories, science articles, crafts, etc. I noted who the authors were and who staffed the magazine. I also took note of what themes have been explored in the most recent editions so that I didn't write something too similar.
I then read through the submission guidelines and looked at the word counts for each story type, what they wanted and what they didn't, and the submission process.
Writing
My next step was to come up with ideas. This is never a difficult process for me and I quite enjoy it. For fiction stories I brainstormed a list of themes, values, lessons, and character traits. I then brainstormed a list of settings where a story might take place. As I did this, quite a few ideas came to me, but to make it even more interesting, I put both lists into an online generator that spit out one entry from my themes list and another from my settings. Then I thought for a few minutes to come up with a plot that fit both. In the end, after a couple of hours of this, I had ideas for 18 stories and 25 poems.
I chose the story idea that stood out to me the most at the moment and began to write. According to the guidelines, the stories need to be between 800-1000 words. And of course, they need to be at an easier reading level too.
So I sat down for a bit and had half of the story done in one short session. When I finally got another chance to sit and write, I finished it up. I read through it a few times, revised it, made sure the reading level was right, and then tested it out on my own kids. They approved, so I formatted it, double checked spelling and grammar and typos and printed it out.
Submitting
Next I had to come up with a cover letter. This is my first time submitting to a children's magazine, so I looked for guidance from other writers online. I found sample letters and from there wrote my own.
Clubhouse Jr. requires manuscripts to be physically mailed, so I ordered a package of 9×13 envelopes and some more ink, as no matter what happens with this particular story, I plan to send out several more over the summer to various children's magazines.
I double checked my cover letter, printed it out, and paperclipped it to my manuscript. The envelope is labeled and sits on my desk waiting to be mailed out in the morning.
Concluding Remarks
Like I said, I'm not sure if this little story will be a success or if it will get rejected. Either way, I'll have learned and added to my experience, and I will continue at it. The nice thing about these markets is that the stories don't take too long to write and they also pay decent rates for your work. For instance, Clubhouse Jr. pays between 15 and 25 cents per word.
The response time for this particular piece is about 12 weeks. So, however it turns out, I'll have quite a bit of time to write more stories and poems and send them off this summer.